For those looking for inspiration when designing their new home, the casual elegance of French provincial is a popular architecture style that you can draw from. Here, we take a look at the history of this style and common characteristics to help inspire you when considering the design of your new home.
History of French provincial
French provincial architecture can be traced to the rural manor homes, or châteaus, of the French nobles in the 1600s and 1700s. It is most often associated with the large manors of wealthy landowners and their family, but can also be seen in the design of their vacation or summer homes, as well as the more modest buildings for the farms and tenants living on the surrounding lands.
While not as ornate as the Baroque style of the early 1600s, French provincial style was still elaborate and exuberant, emphasising a sense of balance and symmetry.
Key style characteristics
There are a few key characteristics that stand out as hallmarks of French provincial style.
Typically, these homes are built using stone or brick, with some featuring rendered sections and mouldings. The facade is usually flat and symmetrical with a centred front door, and the same number of windows on each side. These windows are traditionally tall and multi-paned, opening out like French doors. It is also not uncommon to see a round tower incorporated into the entryway or elsewhere on original French provincial homes.
Traditionally, these homes had at least two storeys with the second floor being distinctly tall with high, arched windows, and balconies may be included. They featured a steeply pitched, slate tiled roof which is often hipped so all sides are sloping down towards the walls.. Roofs may also have small extensions protruding from them called dormers that could include widows and be gabled.
Colours used for French provincial homes are usually muted and natural to match the landscape, such as cream, white, browns, grays, blues and greens. Texture is also a key feature, with unfinished wood, iron and stone often used as accents.
French provincial today
Today, the timeless and welcoming elegance of traditional French provincial homes is used to inspire home builders. These style homes don't need to fully mimic the traditional style to achieve the same look and feeling. While homes in this style still tend to be on the larger and grander scale, home builders take the elements of the style that matches their tastes and lifestyles to incorporate into the interior and/or exterior design.
Common elements of the style found in homes today include formal gardens, grand driveways, quintessential window and roof details, ornamental plasterwork, symmetrical floor plans, large open kitchens and grand entrances.
It is a popular style choice amongst those who like classic lines, traditional features, balance and proportion, and spacious rooms.
The detail is in the design and build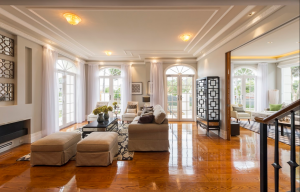 Selecting an architect that has experience with and understands French provincial style is important in ensuring the desired elements complement each other and fit in with your budget and needs. This will also ensure the look and feel you are after will be achieved.
An experienced custom-home builder is equally as important to ensure the home is solidly built and the intricate details are perfectly constructed. Poor construction will quickly detract from the elegance of the design.
Grollo Homes is a genuine custom builder with over 60 years' experience designing and building luxury homes in a variety of architectural styles, including French provincial. This experience ensures that your dream home will reflect the opulence of the style, within your site footprint and budget, without compromising on quality and craftsmanship.
With an architect on the team, Grollo Homes will be with you every step of the way in the design and build of your French provincial inspired home, from the look of the exterior to the interior finishings, to make sure your dream home is perfect.
See Grollo's work in person
Belmore Road House is a French provincial style home designed and built by Grollo Homes. If you would like to see the expert design and high-quality craftsmanship that they can bring to your design and build, you can get in contact with the team to organise a walk through, or for more information and images, visit https://www.grollohomes.com.au/our-work/belmore-house/.